Spinal Decompression Therapy in Westminster
If you have one or more herniated discs, degenerative disc disease, facet syndrome, or any other type of spinal problem, nonsurgical help is available! At Puritz Chiropractic Center, we've successfully treated countless patients with the Chattanooga Decompression Table.
The specially designed table that we use will slowly stretch your spine. During this stretching process, the space between the two spinal bones is enlarged. As a result, a negative pressure is initiated to help draw the disc inward and away from the pinched nerve.
What Are The Benefits?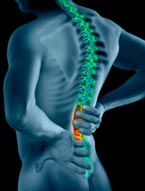 Consider some of the many benefits of spinal decompression therapy:
Safe
Reduces pain
Nonsurgical
More affordable than surgery
Improves circulation
Promotes healing
When Can I Expect to Get Results?
Though everyone responds differently, our clinical findings reveal that patients can experience an initial positive response. Relief is typically experienced within 6-10 sessions, and we usually see patients about 3-5 times a week. If a patient is exhibiting more serious symptoms, then they may need to come in more often. Every case is different, and we will provide personalized care plans based on the needs of each patient.
Wondering if spinal decompression therapy is right for you? Please see our FAQ for more information or contact our practice today to book an appointment!
---
Spinal Decompression Therapy Westminster | Puritz Chiropractic Center