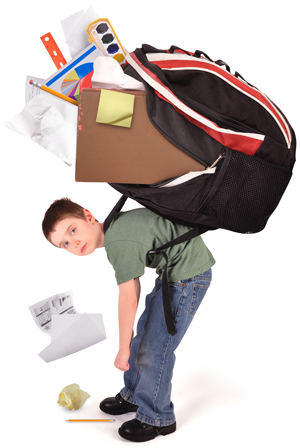 Hauling a heavy backpack over one shoulder can worsen pre-existing postural deformities or spinal misalignments. Common sense tells us that a heavy load, unevenly distributed, day after day, can stress a still-growing spine. Consider the old adage "As the twig bends, so grows the tree."
If your Westminster, MD son or daughter find themselves lugging books back and forth from school, consider these safety suggestions:
1. Make sure the backpack is sturdy and appropriately sized. Special child-sized versions are lighter and have shorter back lengths and widths that reduce shifting.
2. Look for padded shoulder straps to avoid nerve pressure around the armpits and shoulders. Select backpacks with waist straps and make sure they're used.
3. The maximum weight of loaded backpacks should not exceed 15% of the child's body weight. If the pack forces the child to lean forward, it's too heavy.
Bring your child in while fully loaded for school. We're happy to provide an evaluation and offer suggestions for reducing spinal stress.
We love the opportunity to help prevent some of the often difficult-to-correct problems we see in adults!
Give us a call today!
Dr. Allan
410-848-8022
Serving the chiropractic needs of Westminster, Finksburg, Manchester and Hampstead, MD and surrounding areas.